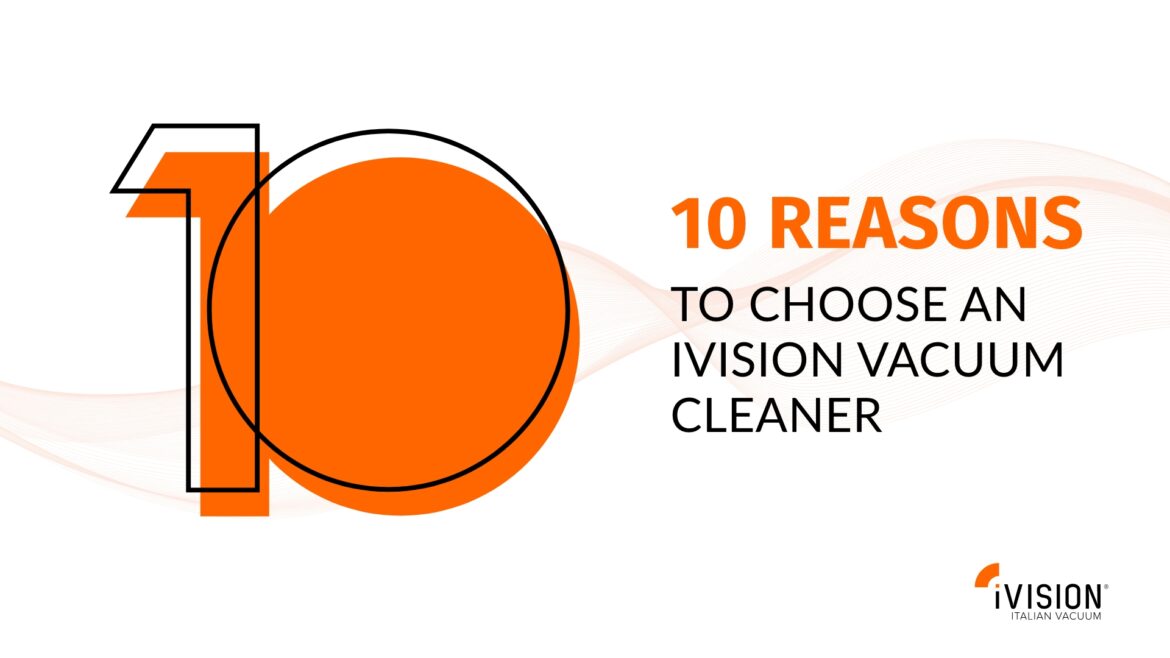 Your company needs a new industrial vacuum cleaner: you are starting to look around the market but you don't know where to start. Choosing an industrial vacuum cleaner is not trivial, actually: you have to consider many factors, including application, power and even the degree of customization. In this article, we walk you through the 10 reasons why you should choose an iVision vacuum cleaner for your business.
1. Made in Italy products
iVision Vacuum produces its industrial vacuum cleaners entirely in Italy, in the Cattolica plant, in Emilia-Romagna. The quality of the raw materials carefully selected to give life to our vacuum cleaners and the compliance with the most rigorous safety standards are determining factors for the creation of a product as a sign of the excellence of Made in Italy. For this, all our vacuum cleaners are CE certified.
2. In-depth analysis based on needs
In iVision Vacuum we don't just sell vacuum cleaners, but we carefully study their applications, in order to design tailor-made suction systems for the customer, with components and accessories specifically chosen to meet the customer's needs. To learn more about how our technicians work to recommend your ideal vacuum cleaner model, read this article.
Engines, powers, capacities of the collection containers: everything can be customized with iVision Vacuum. We cannot think of an industrial vacuum cleaner as a standard object that can be used in any working condition. Instead, it is necessary to adapt its characteristics to the other machinery already in the customer's workshops. For each application, its own vacuum cleaner: for this reason we offer a high degree of customization, in order to satisfy any suctioning need.
Until now, design has never been an important feature for a purely functional object like a vacuum cleaner. Recently, however, companies increasingly tend to show their production processes in their communication and on social networks: hence the need to standardize the machinery so that they integrate perfectly with the corporate identity. Our iVision vacuum cleaners are characterized by a clean and elegant style, which is well suited to the needs of the latest generation workshops, also thanks to the possibility of customizing the RAL color.
5. Technology and innovation
To understand the importance that iVision Vacuum attributes to these aspects, just think of our slogan: "The power of innovation". iVision Vacuum combines the excellence of its vacuum cleaners with a set of cutting-edge technologies useful for the automation of processes and for the remote control of the machinery. Read this article to learn about the iVision Vacuum technologies that you can combine with your new vacuum cleaner.
iVision Vacuum is sensitive to the issue of environmental protection. For this reason, our vacuum cleaners are designed so as not to produce waste, with the possibility of modulating the power via inverter based on the system's request. The material collected by the vacuum cleaner can then be reintroduced into the production cycle if necessary. In addition, we personally take care of the trade-in of your used machinery and of the disposal according to the European directives on waste management.
7. Specialization in various industrial sectors
8. Highly specialized and always up-to-date technicians
Our technicians make sure to be always up to date on current news, the latest technological innovations and sector initiatives. We take part with interest in trade fairs, training meetings and refresher courses to offer our customers a service that is always in line with the latest trends of the moment.
9. Tax benefits and initiatives
iVision Vacuum takes part in tax initiatives facilitating industries that want to equip themselves with new machinery for their production department. In addition to the tax benefits provided for by the new 2021/2022 Italian Budget Law, our company has signed an agreement with a business financing companies wishing to renew their machinery through operational rental.
10. Customer care service
Our work does not end with the sale: iVision Vacuum also supports you in the after-sales, with our support service available in various languages and on various platforms. For all the after-sales services offered, we invite you to read this article.
Enter the iVision Vacuum world: together with you to design your new industrial suctioning system!