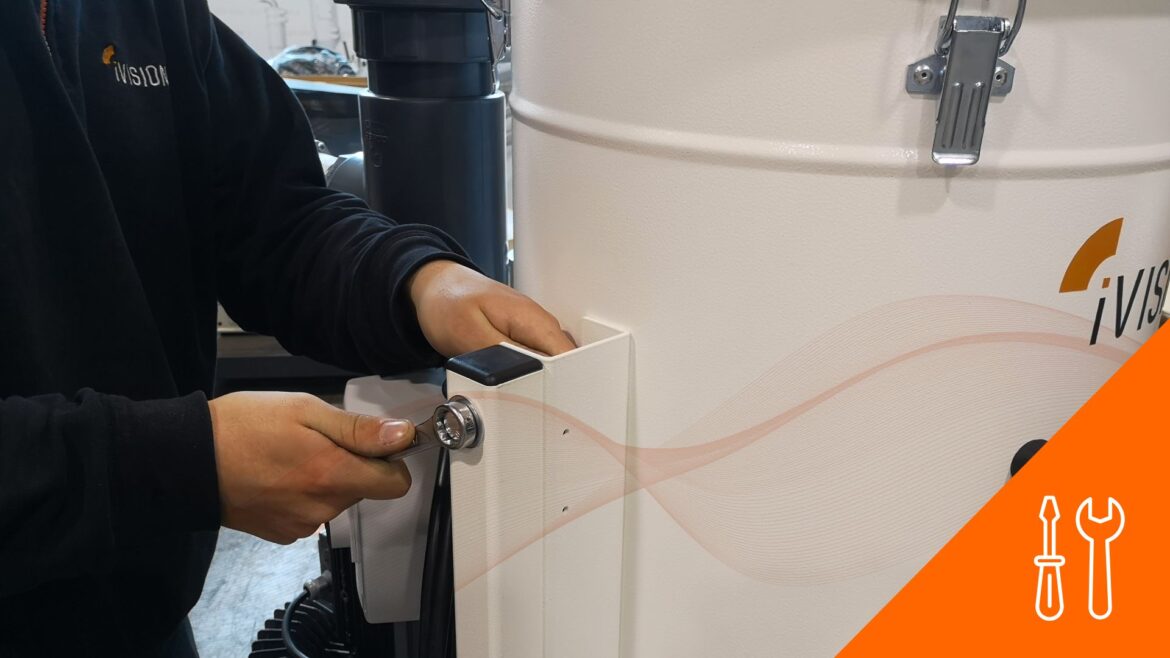 In order to keep your industrial vacuum cleaner healthy, it is a good idea to take small steps that can considerably extend the life of your device. One of these is certainly to carry out scheduled maintenance cycles to your vacuum cleaner, in order to prevent any problems and thus increase its efficiency.
This also results in a considerable saving of money and time: on the one hand, in fact, you will need to replace your vacuum cleaner much later in time; on the other hand, having a high-performance vacuum cleaner will allow you to optimize production processes, making them smoother and faster. You will also benefit in terms of quality of the finished product, since a vacuum cleaner in perfect health will positively affect the quality of your product.
The maintenance operations that iVision Vacuum experts carry out on industrial vacuum cleaners can be of two types: ordinary maintenance and extraordinary maintenance.
The ordinary maintenance of iVision Vacuum machines generally takes place annually, but it can also be carried out every six months at the explicit request of the customer. Ordinary maintenance consists of a series of interventions, to be carried out in a preventive manner, necessary to ensure the proper functioning of the device over time.
This type of maintenance includes inspection, control, adjustment, cleaning and lubrication of the machinery. In practice, an iVision Vacuum expert goes to the customer's premises by appointment and carries out a check-up of the industrial vacuum cleaner. In the event that he has identified any criticalities, he will promptly repair the problem before it degenerates into a possible downtime. Finally, it replaces the spare parts inherent in the filtering system (filters and pre-filters) to ensure greater efficiency of the device.
All these interventions are carried out with the aim of keeping under control the mechanical conditions, lubrication and cleaning of the industrial vacuum cleaner, with a view to preventing possible failures.
For good ordinary maintenance, iVision Vacuum experts recommend to:
Use only original spare parts and tools that are suitable for the purpose and in good condition;
Observe the service intervals recommended in the manual supplied with the purchase of the vacuum cleaner. These intervals can be shortened by scheduling maintenance before the deadline, but not extended;
Constantly monitor the performance of the vacuum cleaner and promptly verify the cause of any anomalies, such as excessive noise or overheating;
Promptly correct any malfunctions found to prevent further damage to equipment and ensure the safety of operators.
Extraordinary maintenance
The extraordinary maintenance of iVision Vacuum industrial vacuum cleaners includes all those operations that the operator must necessarily carry out when the machine needs it. For example, extraordinary maintenance includes overhauling, repairing, restoring nominal operating conditions or replacing a faulty, defective or worn unit.
All these operations require in-depth and specialized knowledge of the machinery: for this reason, it is always good to rely on iVision Vacuum's technicians, to ensure that the correct procedures are implemented and to operate safely.
Whatever your needs, iVision Vacuum's technicians are ready to support you with their intervention! Contact us to schedule maintenance operations for your industrial vacuum cleaner.