The Fensterbau Frontale in Nuremberg is the world's leading trade fair for windows, doors and facades, related technologies and their components, as well as the machinery and services connected to them.
An unmissable platform, where the most important players meet to share the latest innovations in the sector.
EXTRUSION LINE
Industrial Vacuum Cleaner for Metal & PVC chips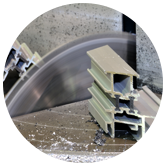 iVision was there with its Extrusion line, specifically designed for the suction of aluminum and PVC chippings. There were great curiosity and interest, especially for the new IV5, the 4.0 industrial vacuum cleaner!
Choose iVision.
Choose the Industrial Aspiration 4.0!
Always heedful of the market, iVision has introduced an important innovation in the industry, thanks to the new smart vacuum cleaner that:
Works without interruption, by simultaneously aspirating and discharging machining chips
Perfectly integrates into the company network through the new Ivision-Digital-Touch-Screen (IDTS)
Enables to perform proactive monitoring, reducing downtime and increasing safety and efficiency
Allows to quickly and easily check the status of the filters and to intervene on routine maintenance
Continuous cycle aspiration
Predictive maintenance (PDM)
Don't hesitate to contact us for a specialized quotation, we know how to guide you towards the product most adapt to your demands.
iVision, the best industrial material collection!