iV3 FLAT TABLE
iV3 FLAT TABLE
INDUSTRIAL VACUUM CLEANERS FOR CHIP ON CNC ROUTER
iV3 Flat Table Industrial Vacuum Cleaners are the most powerful units and are ideal for chip extraction on very big CNC routers. They can be used for single machines or to connect several machines to only one vacuum cleaner.
Thanks to the powerful side-channel turbines and the spacious collection tank, the iV3 series is ideal for the maintenance and the cleaning of large work centers.
The study and the design research, along with the sturdy materials comprised of simple design, are characteristics of a product entirely made in Italy; a true guarantee in the industrial market.
REQUEST A FREE QUOTATION
STANDARD SUPPLY
Turbine with side channel blower
Safety valve
Visual filling indicator
High-working performance with heavy duty cycle
Structure completely made of steel
Anti-scuff wheels with parking brake
Container capacity 160 Lt
Quick-release container
Quick-release container
OPTIONAL
Remote Start&Stop control
Aerial Arm for hose support with safety valve and adjustable leveling feet
Touch screen
Kit to hold PVC bags inside the tank
Lift kit in order to avoid any manual efforts by the operator during the emptying process
Possibility of an additional 500 Lt/1000 Lt dumpster

You can also have iVision vacuums with
ATEX-Zone 22
certifcation for potentially explosive environments.
More info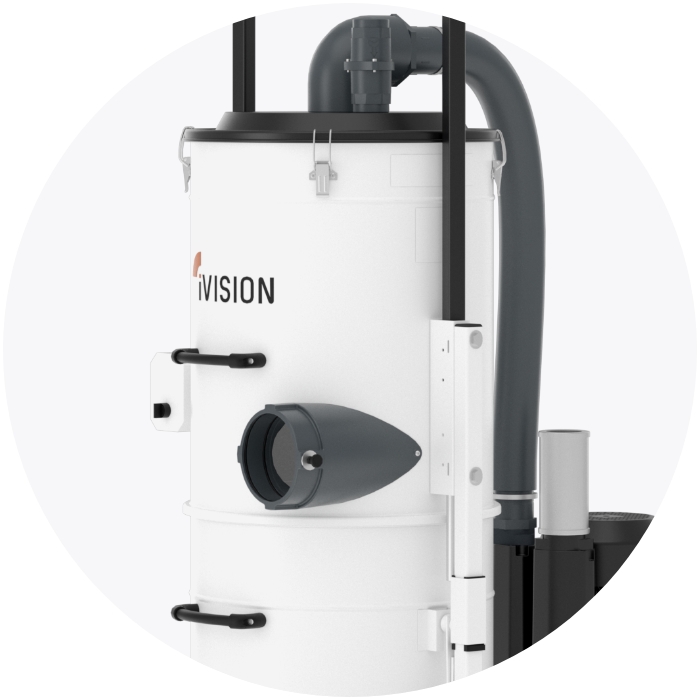 All these filters Iv3 FLAT line are designed to work different materials from wood to plastic, from aluminum to Plexiglass, Alucobond and Dibond.
Accessories

HI-TECH VACUUM

Filter cleaning with a pneumatic piston requires being connected to an air adapter from 6-8 bar and via a pressure regulator that can vary the intensity of the sliding of the piston. • To effectively clean the filters mounted inside the vacuum, the vertical piston filter cleaning system was developed. Through a manual selector (semiautomatic solution) or by a timer (automatic version) a pneumatic piston acts from the bottom of the filter, shaking it intensely in a way that ensures that the chips or the dust transferred to the outside of the filter fall into the collection tank, permitting in this way the continued optimal functioning of the filter. • Vertical piston cleaning of the filter is recommended for any type of application, as it significantly improves the cleaning of the filter compared to the vibrating motor standard version. • Vertical piston cleaning of the filter, especially in its automatic version, becomes mandatory in the suctioning of fine dust that can clog the filter rapidly. In the case of large and heavy chips, this system is not mandatory, but for light or volatile material, yes! • The principal advantage of this system comes from the greater efficiency in the incisiveness of the shaking of the filter with a piston. Another advantage is the use of this system in its automatic version, shaking the filter every time that the motor is turned off, eliminating the typical problem of the reliability of the operator, who usually has to remember to turn on the cleaning of the filter.