The ATEX vacuums are suitable machines for removing flammable and potentially explosive dust, that increase the safety of the people that operate in different work environments and ensures the efficiency in respect to the norm.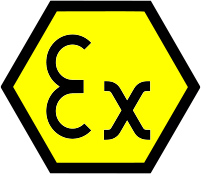 ATEX, acronym for Explosive Atmospheres, is a reference code of the European Union that includes two specific directives, the 99/92/CE and the 2014/31/EU (that from April 20, 2016 replaced the former 94/9/CE)
The first directive, the 2014/31/EU regulates the use of equipment and machinery in potentially explosive atmospheres and regulates the technical safety characteristics that the various equipment, including vacuums, need to have present in order to operate within different risk zones.
The second, the 99/92/CE, regards the safety and the health of workers in potentially explosive environments, addressing all companies that may have internal hazardous areas.
The ATEX directives separate clearly the responsibilities for the classification of the work area and the classification of the application categories of the machines, suitable for the use in hazardous areas (ATEX Zone); the client has the responsibility to define/classify the Zone (work area) in which the machine will be installed and utilized while the machine manufacturer is responsible for the production of a machine that satisfies the requests of the client.
ATEX environments (at rish of explosion) are divided into three zones:
ZONE

ATEX EQUIPMENT TO BE USED

Ongoing risk: the explosive mixture is present continuously or for long periods
Zone 0 (gas) Zone 20 (dust)

Very high level of protection
Category 1

Frequent risk: it's probable the formation of an explosive mixture during normal activities
Zone 1 (gas) Zone 21 (dust)

Elevated level of protection
Category 2

Occasional risk: it's not likely the risk of an explosive mixture, if it occurs, it will be short in duration
Zona 2 (gas) Zona 22 (dust)

Normal level of protection
Category 3
Design and technical advice
iVision, thanks to its specialized technicians, is able to:
Guarantee the quality and the safety of the work environment with specific vacuums equipped with ATEX-certified components for the Zone 22
Suggest the vacuum most suitable according to the needs of your company
Train technicians to use the vacuum cleaners
Implement preventive maintenance plans of the plants
Install and test the systems
Provide technical support for the management of the plant/li>
Technical specifications
iVision industrial vacuums with ATEX certifications for the 22 Zone include specific components such as:
Specific suction apparatus.
Grounded kit.
Suction tube and specific sleeves.
Antistatic filters.
ATEX-certified motors.
ATEX-certified electric components.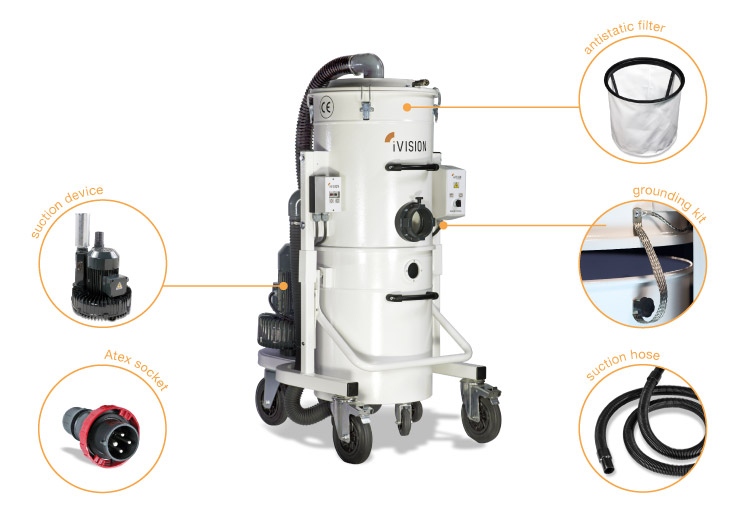 iVision ATEX certified Zone 22 Vacuums