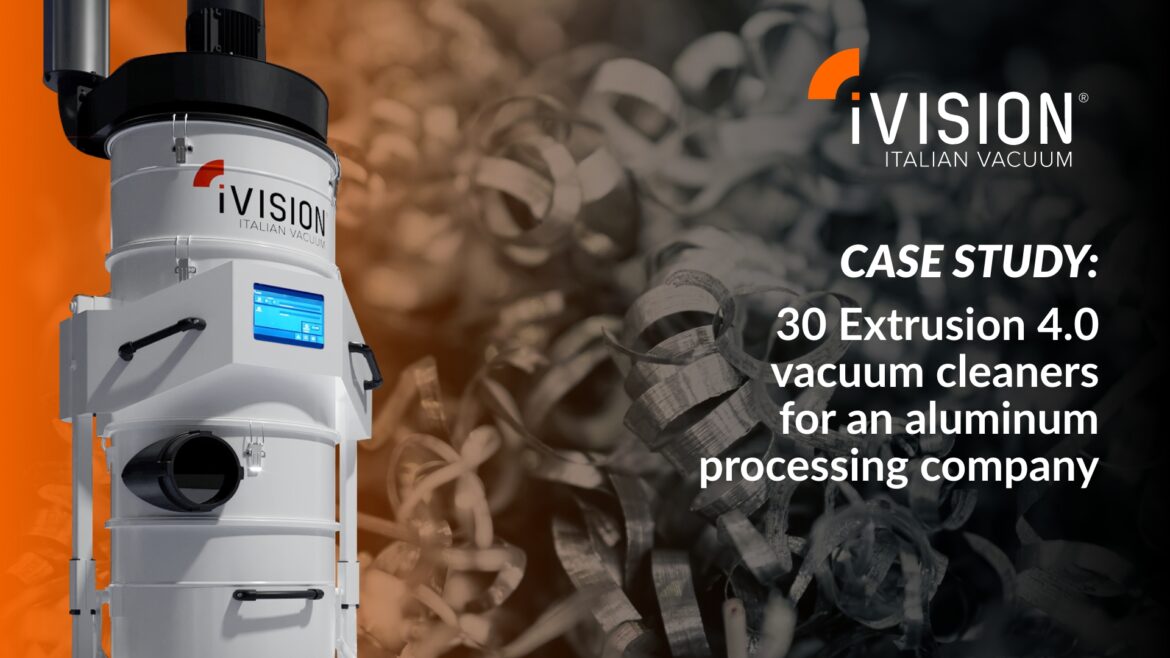 30 iVision Vacuum cleaners from the Extrusion line were designed in their 4.0 version and were installed inside an Italian company specialized in aluminum processing.
This company has a technologically advanced fleet of machines and needs to vaccum large amounts of chips and dust from aluminum processing, respecting the characteristics of Industry 4.0. Scrap is produced by operations such as cutting, contouring, and profiling of materials from the extrusion process. In this context fits in the installation of the iVision Vacuum industrial cleaners from the Extrusion line, specially designed in their 4.0 version and capable of maintaining a stable production rate.
The features of the 30 Extrusion vacuum cleaners
The 4.0 vacuums that have been installed are those of the line designed specifically for the aluminum machining sector. After a long experience in the industrial mechanics sector, iVision Vacuum decided to respond to the growing needs for suction of chips generated during processing with a vacuum cleaner that guarantees excellent performance and a substantial improvement in the quality of the final processed product.
In this case study, the 30 Extrusion models took on the smart features of 4.0 vacuum cleaners, becoming vacuum cleaners that fully meet the requirements of Industry 4.0. Like the other machines, they were connected to the company network, allowing them to benefit from all their smart features, including Remote Monitoring, Cloud Computing and Real Time Support.
To learn about all the innovative features of iVision Vacuum 4.0 click here.
All the benefits for the aluminium processing company
– Have greater control over the performance of the vacuum cleaners
The installation of the 30 4.0 vacuum cleaners makes it possible to constantly monitor their performance level and intervene in a timely manner when necessary.
– Maintain a stable production rate
Having such a direct control translates into an invaluable advantage for a state-of-the-art company with a multitude of production units to supervise: the prevention of its own downtime and consequently also the downtime of other machines installed in the production line. This avoids high costs associated with lost production and possible product damage.
To learn more about all the benefits of iVision Vacuum 4.0 related to downtime prevention, click here.
– Ensuring a safer working environment
HEPA filters are fitted to the 4.0 vacuum cleaners; these have a high capacity to filter out sucked-in particles and putting clean air back into the environment. This is an overall improvement in the working environment, which also promotes greater health safety for its employees.
– Achieve superior quality of its products
Preventing breakdowns, remotely monitoring the performance of the equipment and taking timely action when necessary also promotes better final product performance.
If the vacuum cleaner suffers a failure and there is no immediate opportunity to notify the abnormal situation, the compromised performance could affect the final product yield, damaging its quality.