iV3 SHOES
iV3 SHOES
INDUSTRIAL VACUUM CLEANER FOR DUST OF LEATHER & FABRICS
The iV3 vacuum cleaners of the Shoes line are the best-selling iVision industrial vacuum cleaners in the world of footwear production.
These are excellent systems used in the world of footwear for the industrial extraction of chips, dust or waste generated by grinding, carding or brushing machines.
The iV3 vacuum cleaners of the Shoes line cover almost all the suction needs of scraps on machine tools in the world of shoe production as well as leather and fabric processing by combining the attention and care of design with simple and robust materials.
The experience in this sector has led iVision to develop increasingly effective and safe suction systems to ensure continuous and always reliable processing.
REQUEST A FREE QUOTATION
TALK TO A CONSULTANT
Go back
STANDARD BASIC SUPPLY
High flow centrifugal fans up to 3500 m³ / h
Completely steel structure
Non-marking swivel wheels with parking brake
M class polyester bag filter (stops 99.9% of the sucked particles)
Detachable container with wheels
Container capacity 160 liters
External exhaust with silencer
Pneumatic filter shaker
Use and maintenance manual
C.E. certification
Motor overload protector
Electric cable 8 mt

The vacuum cleaner can also be supplied with ATEX-Zone 22 certifcation for explosive atmospheres. More info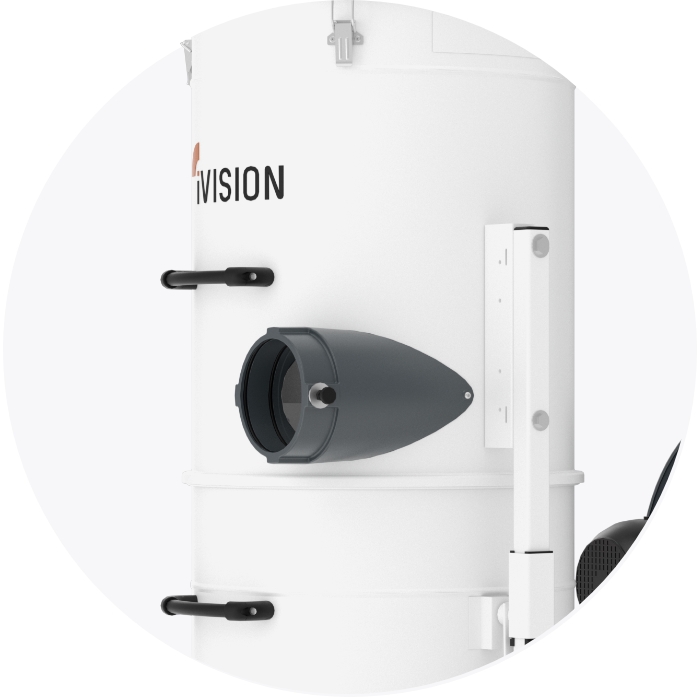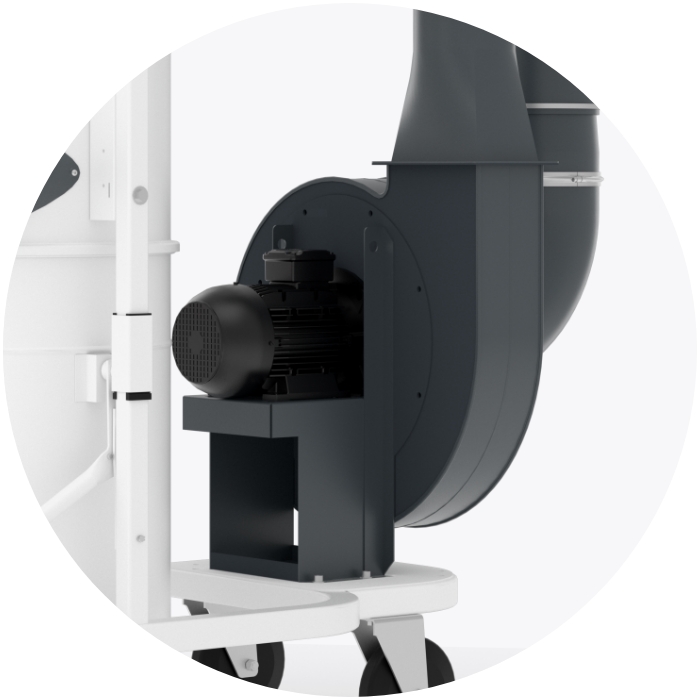 Accessories

HI-TECH VACUUM

Filter cleaning with a pneumatic piston requires being connected to an air adapter from 6-8 bar and via a pressure regulator that can vary the intensity of the sliding of the piston. • To effectively clean the filters mounted inside the vacuum, the vertical piston filter cleaning system was developed. Through a manual selector (semiautomatic solution) or by a timer (automatic version) a pneumatic piston acts from the bottom of the filter, shaking it intensely in a way that ensures that the chips or the dust transferred to the outside of the filter fall into the collection tank, permitting in this way the continued optimal functioning of the filter. • Vertical piston cleaning of the filter is recommended for any type of application, as it significantly improves the cleaning of the filter compared to the vibrating motor standard version. • Vertical piston cleaning of the filter, especially in its automatic version, becomes mandatory in the suctioning of fine dust that can clog the filter rapidly. In the case of large and heavy chips, this system is not mandatory, but for light or volatile material, yes! • The principal advantage of this system comes from the greater efficiency in the incisiveness of the shaking of the filter with a piston. Another advantage is the use of this system in its automatic version, shaking the filter every time that the motor is turned off, eliminating the typical problem of the reliability of the operator, who usually has to remember to turn on the cleaning of the filter.