iVision shows its innovation at GlassBuild Las Vegas, NV
iVision showcasing a part of its advanced and innovative solutions at the biggest and most important fair in glass, window and doors industry in North America, from September 12th untill the 14th.
A unique opportunity to discover how iVision's Industrial Vacuum systems can improve the productivity and create a better working environment in the industry.
EXTRUSION LINE
Industrial Vacuum Cleaner for Metal & PVC chips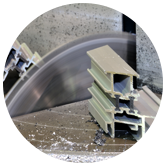 Would you like to manage the efficiency of your vacuum from a distance?
With the iVision Touch Screen it's now possible. Thanks to an interface designed to communicate simply and quickly the fundamental data of the vacuum to the operator it's possible to manage the level of deterioration of the filter in real time. Equipped with an internal micro-printed circuit board that records and controls the use of the entire plant, there is an LED Scale able to intuitively reveal the level of dirtiness that the filter has reached and a sophisticated system of sensors controlled by a dedicated PLC capable of not empirical, but scientific data.
Try the iVision Touch Screen,
choose the best!
Don't hesitate to contact us for a specialized quotation, we know how to guide you towards the product most adapt to your demands.
iVision, the best industrial material collection!